Knitters Against Swatches
Do you love Cards Against Humanity, but wish it shared your love of fiber so you could reference esoteric knitting jargon like you do at Stitch 'n Bitch? Behold, Knitters Against Swatches provides you with 36 knitting-centric cards to liven up your deck. This unofficial expansion is meant to be played with Cards Against Humanity – played on its own, it will provide a very short and unfulfilling experience, like running out of yarn halfway through a sweater.
Knitters Against Swatches First Edition is a 36-card, knitting-themed, unofficial expansion for Cards Against Humanity. Each deck contains 30 white cards and 6 black cards printed on high-quality casino stock with a linen finish for added durability.
Knitters Against Swatches Second Edition is now a thing! It's a whole new deck that can be played with or without the First Edition. (Though we still think you need the base Cards Against Humanity game!)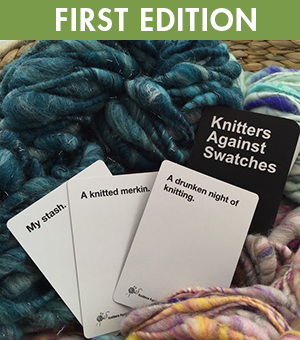 US$9.00 + Shipping
Knitters Against Swatches, First Edition
Ships Worldwide!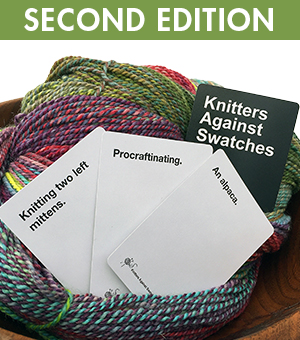 US$9.00 + Shipping
Knitters Against Swatches, Second Edition
Ships Worldwide!